Category Archives: Mommy on the Move
Pumpkin Pecan Paleo Doughnuts
Since Halloween is right around the corner and I am in love with all things pumpkin this fall, let's just dive right into something super "pumpkiny."  I actually don't think pumpkiny is an actual word but these pumpkin pecan paleo doughnuts are– and they were a hot commodity in my house this past weekend.  We are gearing up for a neighborhood Halloween block party later in the week, so I was brainstorming recipes that were festive for fall, kid friendly, but also somewhat healthy— and that's how these pumpkin pecan paleo doughnuts were created.
Ready to see the finished product?
You could say I've been on a sugar kick lately.  I should be on a green smoothie kick, but marathon training has left me craving tons of carbs.
I guess we can save the green smoothies for next month. Wait a minute— next month is Thanksgiving, where most people eat and drink their faces off…
So basically, I am totally screwed; my kids will be on a sugar high through December.  My only saving grace is that I am running the Philly Marathon the Sunday before Thanksgiving– and hopefully after a successful race, I will be taking Thanksgiving week off to rest and recoup.
So, can I tell you something?
I only baked these doughnuts because we have a Halloween block party later this week.  But part of me was also just craving a doughnut that fits my macros.
Calorie balance achieved! And pumpkin season is ON our household….since I started making pumpkin recipes toward the end of August:)
Ingredient gathering. It doesn't take much. I opted for ingredients that we had on hand in our pantry.
And of course will need a DOUGHNUT PAN. And if you already have one, AWESOME. You are on your way!  I actually picked mine up at a local arts and crafts store near my house for $5.
Mix all of your wet ingredients together. I used pyrex measuring cups to ensure an accurate measure.
Add the wet ingredients to the dry ingredients. Stir!
And batter's up!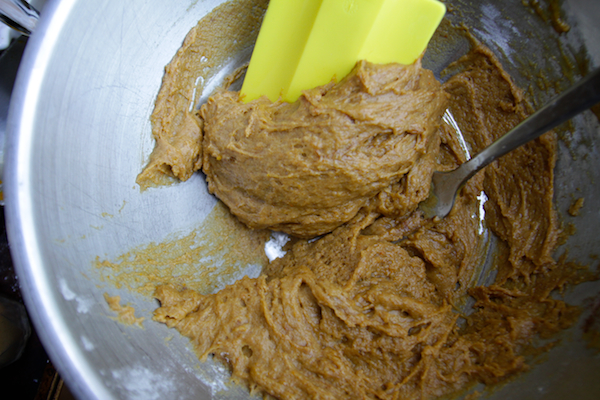 Put the batter in your greased DOUGHNUT PAN.
To get the batter in the doughnut pan, you can use a freezer bag. Cut the tip off and pipe it.  Or you can go for the messy look like I did and scoop the batter into the pan using a tablespoon.
Bake them! And then whip up the optional frosting.  Bonus! Pop some pecans in the oven while you're baking your doughnuts. They should take 6-8 minutes to toast.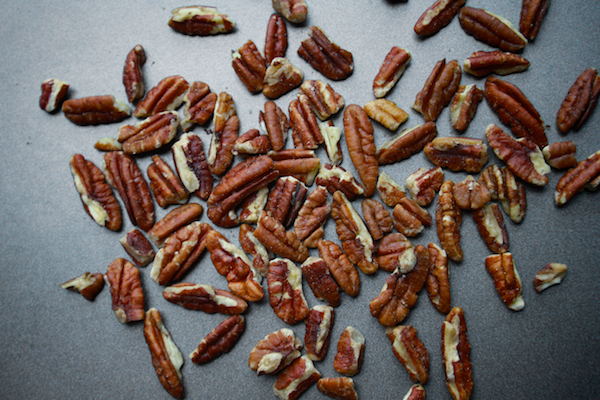 Can we talk about browned butter?! Yum. You put it over the stove in a pan and heat it over medium heat until it browns.
Add the browned butter to the powdered sugar. Add some coconut milk to make it smooth.
Then dip your donuts!
Yum.
Now top with your shredded pecans.
Get in the season.
And if you have leftover any pumpkin puree, try my Pumpkin Protein Chocolate Chip Cookies or my Pumpkin Protein Pancakes.  Ok. We're done.
For now… proceed with all things pumkin-y.
BAKED PUMPKIN PECAN DOUGHNUTS
Serves 6
For the doughnuts:
1 cup coconut flour (I used Trader Joe's brand)
1/2 teaspoon baking soda
2 teaspoons baking powder
1 1/2 teaspoons ground cinnamon
1 teaspoon ground ginger
1/4 teaspoon salt
1 cup pureed pumpkin
1/2 cup coconut sugar
1 egg
1/4 cup Greek Yogurt ( I used Chobani pumpkin flavor)
1 teaspoon vanilla extract
For the topping:
1/2 cup toasted pecans, shredded
1  cup powdered sugar
1 teaspoon vanilla extract
2-3 tablespoons butter
3-4 teaspoons coconut milk
Heat oven to 325 F. Coat doughnut pan with non-stick cooking spray. In a large bowl, whisk flour, baking soda, cinnamon, ginger and salt. In a small bowl, whisk pumpkin, sugar, egg, Greek yogurt, and vanilla until smooth. Add wet mixture to flour mixture; whisk until blended & smooth.
Spoon batter into a large resealable plastic bag. Cut off the corner and squeeze batter into prepared doughnut pan about 2/3 full. Bake for 13-15 minutes, until doughnuts spring back when lightly pressed. Cool in pan on rack 3 minutes, then carefully turn out directly onto rack to cool.
Melt butter in a small saucepan over medium heat for 4-5 minutes, until browned. Pour browned butter into a bowl with confectioner's sugar. Stir in vanilla and milk until frosting reaches a smooth consistency.
Dip cooled doughnuts into bowl and allow excess frosting to drip back into bowl. Transfer to rack. Top with shredded pecans and serve immediately.
Do you have a fall festive recipe that you would like to share?  I would love to hear all about it in the comments below!
I am linking this post up with Deb over at Confessions of a Mother Runner and Sarah over at A Whisk and Two Wands for Meatless Monday, along with Running on Happy & The Fit Foodie Mama for Meatless Monday.  I am also linking up with Angela over at Marathons & Motivation and Ilka at www.ilkasblog.com for their Savory Sunday link up.